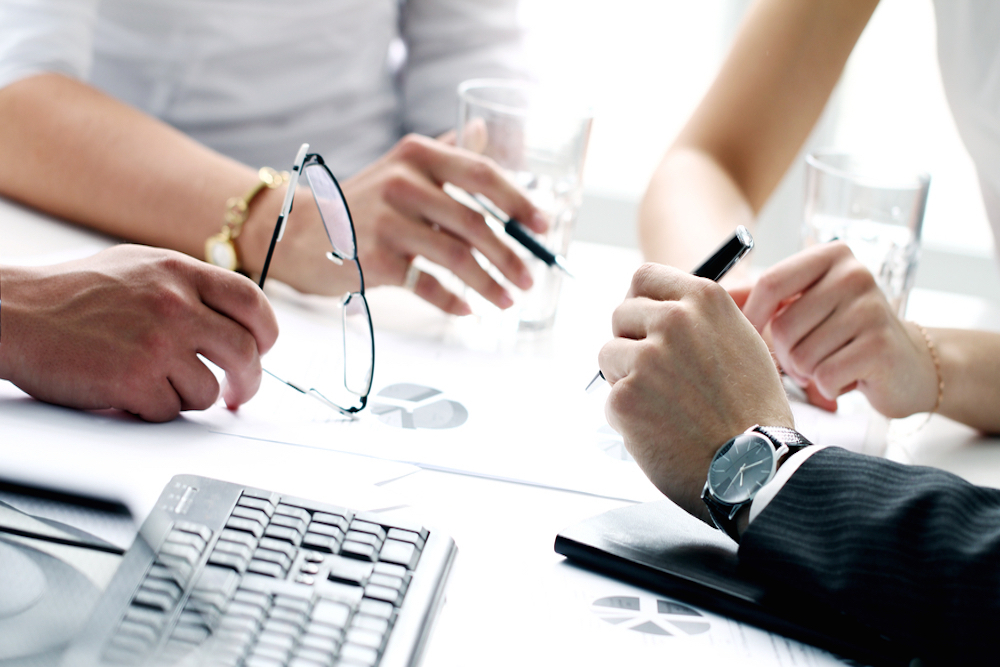 Brigham Young University's Marriott Business School ranked 32nd among U.S. colleges offering master of business administration programs, according to a new study by U.S. News that examined 367 schools.
The Provo school has an annual in-state tuition rate for full-time students of $13,450 (Church of Jesus Christ of Latter-day Saints members) and an enrollment of 280 full-time students.
U.S. News ended up ranking only 131 schools out of the 367. The ranked schools provided adequate data on their MBA programs for the news publisher to calculate the results, which are based on a weighted average of indicators such as test scores, recruiter assessments, acceptance rates and student grade-point averages.
All the schools examined are accredited by the Association to Advance Collegiate Schools of Business International.
---
Where Are the Nation's Best Business Schools?
| | | | |
| --- | --- | --- | --- |
| Rank | School | Annual Full-time Tuition (in State) | Enrollment (full time) |
| 1 | University of Pennsylvania (Wharton) Philadelphia, PA | $72,300 | 1,742 |
| 2 | Stanford University Stanford, CA | $70,590 | 855 |
| 3 (tie) | Harvard University Boston, MA | $73,440 | 1,873 |
| 3 (tie) | Massachusetts Institute of Technology (Sloan) Cambridge, MA | $74,200 | 813 |
| 3 (tie) | University of Chicago (Booth) Chicago, IL | $72,000 | 1,179 |
| 6 (tie) | Columbia University New York, NY | $74,400 | 1,297 |
| 6 (tie) | Northwestern University (Kellogg) Evanston, IL | $71,544 | 1,304 |
| 7 (tie) | University of California--Berkeley (Haas) Berkeley, CA | $60,987 | 590 |
| 9 | Yale University New Haven, CT | $69,500 | 723 |
| 10 (tie) | Duke University (Fuqua) Durham, NC | $68,200 | 875 |
| 10 (tie) | University of Michigan--Ann Arbor (Ross) Ann Arbor, MI | $63,646 | 832 |
| 12 (tie) | Dartmouth College (Tuck) Hanover, NH | $72,150 | 576 |
| 12 (tie) | New York University (Stern) New York, NY | $71,676 | 772 |
| 12 (tie) | University of Virginia (Darden) Charlottesville, VA | $62,464 | 660 |
| 15 | Cornell University (Johnson) Ithaca, NY | $66,290 | 573 |
| 16 | University of California--Los Angeles (Anderson) Los Angeles, CA | $59,866 | 723 |
| 17 (tie) | Carnegie Mellon University (Tepper) Pittsburgh, PA | $65,000 | 465 |
| 17 (tie) | University of Southern California (Marshall) Los Angeles, CA | $63,096 | 449 |
| 19 (tie) | University of North Carolina--Chapel Hill (Kenan-Flagler) Chapel Hill, NC | $45,915 | 556 |
| 19 (tie) | University of Texas--Austin (McCombs) Austin, TX | $40,622 | 551 |
| 21 (tie) | Emory University (Goizueta) Atlanta, GA | $62,000 | 349 |
| 21 (tie) | Indiana University (Kelley) Bloomington, IN | $27,053 | 388 |
| 21 (tie) | University of Washington (Foster) Seattle, WA | $34,323 | 223 |
| 24 | Georgetown University (McDonough) Washington, DC | $58,500 | 541 |
| 25 | University of Florida (Warrington) Gainesville, FL | $12,737 | 95 |
| 26 (tie) | Rice University (Jones) Houston, TX | $58,000 | 236 |
| 26 (tie) | University of Notre Dame (Mendoza) Notre Dame, IN | $54,120 | 281 |
| 26 (tie) | Washington University in St. Louis (Olin) St. Louis, MO | $59,950 | 273 |
| 29 (tie) | Georgia Institute of Technology (Scheller) Atlanta, GA | $29,232 | 167 |
| 29 (tie) | Vanderbilt University (Owen) Nashville, TN | $56,150 | 351 |
| 31 | Ohio State University (Fisher) Columbus, OH | $30,120 | 181 |
| 32 | Brigham Young University (Marriott) Provo, UT | $13,450 (Church of Jesus Christ of Latter-day Saints members) | 280 |
| 33 (tie) | Arizona State University (W.P. Carey) Tempe, AZ | $28,406 | 195 |
| 33 (tie) | Pennsylvania State University--University Park (Smeal) University Park, PA | $26,422 | 117 |
| 35 (tie) | University of Minnesota--Twin Cities (Carlson) Minneapolis, MN | $39,000 | 188 |
| 35 (tie) | University of Wisconsin--Madison Madison, WI | $19,162 | 183 |
| 37 | University of Georgia (Terry) Athens, GA | $13,404 | 102 |
| 38 (tie) | Michigan State University (Broad) East Lansing, MI | $31,824 | 157 |
| 38 (tie) | University of Texas--Dallas Richardson, TX | $14,068 | 101 |
| 40 (tie) | Texas A&M University--College Station (Mays) College Station, TX | $53,430 | 123 |
| 40 (tie) | University of Maryland--College Park (Smith) College Park, MD | $44,766 | 155 |
| 40 (tie) | University of Rochester (Simon) Rochester, NY | $46,000 | 209 |
| 43 (tie) | Boston College (Carroll) Chestnut Hill, MA | $51,200 | 156 |
| 43 (tie) | Southern Methodist University (Cox) Dallas, TX | $45,975 | 225 |
| 43 (tie) | University of California--Irvine (Merage) Irvine, CA | $45,288 | 157 |
| 43 (tie) | University of Pittsburgh (Katz) Pittsburgh, PA | $45,564 | 120 |
| 47 (tie) | Iowa State University Ames, IA | $11,542 | 79 |
| 47 (tie) | University of California--Davis Davis, CA | $37,440 | 91 |
| 47 (tie) | University of Illinois--Urbana-Champaign Champaign, IL | $48,760 | 94 |
| 50 (tie) | Boston University (Questrom) Boston, MA | $53,994 | 320 |
| 50 (tie) | University of Alabama (Manderson) Tuscaloosa, AL | $10,780 | 314 |
| 52 (tie) | CUNY Bernard M. Baruch College (Zicklin) New York, NY | $15,840 | 75 |
| 52 (tie) | University of Arizona (Eller) Tucson, AZ | $11,716 | 79 |
| 54 (tie) | College of William and Mary (Mason) Williamsburg, VA | $33,108 | 204 |
| 54 (tie) | University of Tennessee--Knoxville (Haslam) Knoxville, TN | $11,244 | 100 |
| 54 (tie) | University of Utah (Eccles) Salt Lake City, UT | $30,000 | 119 |
| 57 | Baylor University (Hankamer) Waco, TX | $41,194 | 84 |
| 58 (tie) | Northeastern University Boston, MA | $88,000 | 160 |
| 58 (tie) | Rutgers, The State University of New Jersey--Newark and New Brunswick Newark, NJ | $53,844 | 121 |
| 58 (tie) | University of Oklahoma (Price) Oklahoma City, OK | $34,000 | 69 |
| 61 (tie) | George Washington University Washington, DC | $52,785 | 129 |
| 61 (tie) | Texas Christian University (Neeley) Fort Worth, TX | $44,010 | 92 |
| 63 (tie) | Babson College (Olin) Babson Park, MA | $111,952 | 344 |
| 63 (tie) | Fordham University (Gabelli) New York, NY | $96,875 | 100 |
| 63 (tie) | Tulane University (Freeman) New Orleans, LA | $52,918 | 73 |
| 66 | University at Buffalo--SUNY Buffalo, NY | $14,850 | 209 |
| 67 (tie) | Howard University Washington, DC | $33,996 | 50 |
| 67 (tie) | University of Kentucky (Gatton) Lexington, KY | $32,906 | 65 |
| 69 (tie) | Auburn University (Harbert) Auburn, AL | $14,445 | 77 |
| 69 (tie) | Louisiana State University--Baton Rouge (Ourso) Baton Rouge, LA | $36,800 | 84 |
| 69 (tie) | University of California--San Diego (Rady) San Diego, CA | $50,717 | 102 |
| 69 (tie) | University of Missouri (Trulaske) Columbia, MO | $20,953 | 82 |
| 73 | Oklahoma State University (Spears) Stillwater, OK | $230 per credit | 53 |
| 74 (tie) | Case Western Reserve University (Weatherhead) Cleveland, OH | $40,560 | 95 |
| 74 (tie) | Pepperdine University (Graziadio) Malibu, CA | $49,750 | 116 |
| 74 (tie) | Purdue University--West Lafayette (Krannert) West Lafayette, IN | $9,208 | 93 |
| 74 (tie) | University of Massachusetts--Amherst (Isenberg) Amherst, MA | $14,280 | 56 |
| 74 (tie) | University of South Carolina (Moore) Columbia, SC | $43,142 | 47 |
| 79 (tie) | Clemson University Greenville, SC | $19,226 | 121 |
| 79 (tie) | Florida State University Tallahassee, FL | $480 per credit | 54 |
| 79 (tie) | University of Colorado--Boulder (Leeds) Boulder, CO | $49,500 | 194 |
| 79 (tie) | University of Connecticut Hartford, CT | $15,352 | 94 |
| 83 | Stevens Institute of Technology Hoboken, NJ | $35,960 | 595 |
| 84 | Drexel University (LeBow) Philadelphia, PA | N/A | 38 |
| 85 (tie) | Chapman University (Argyros) Orange, CA | $1,655 per credit | 59 |
| 85 (tie) | North Carolina State University (Poole) Raleigh, NC | $23,042 | 95 |
| 87 (tie) | University of Arkansas--Fayetteville (Walton) Fayetteville, AR | N/A | 39 |
| 87 (tie) | University of Louisville Louisville, KY | $32,000 | 52 |
| 89 (tie) | Binghamton University--SUNY Binghamton, NY | $14,850 | 132 |
| 89 (tie) | Syracuse University (Whitman) Syracuse, NY | $1,559 per credit | 45 |
| 91 (tie) | University of California--Riverside (Anderson) Riverside, CA | $39,213 | 113 |
| 91 (tie) | University of Denver (Daniels) Denver, CO | $90,400 | 55 |
| 93 (tie) | Rochester Institute of Technology (Saunders) Rochester, NY | $45,520 | 126 |
| 93 (tie) | University of Kansas Lawrence, KS | $681 per credit | 57 |
| 95 (tie) | University of Houston (Bauer) Houston, TX | $24,437 | 70 |
| 95 (tie) | University of South Florida Tampa, FL | $467 per credit | 52 |
| 97 (tie) | University of Cincinnati (Lindner) Cincinnati, OH | $28,920 | 71 |
| 97 (tie) | University of Oregon (Lundquist) Eugene, OR | $28,377 | 123 |
| 99 | Alfred University Alfred, NY | $38,020 | 22 |
| 99 | American University (Kogod) Washington, DC | $83,692 | 63 |
| 99 | Appalachian State University (Walker) Boone, NC | $12,459 | 67 |
| 99 | Belmont University (Massey) Nashville, TN | $58,880 | 31 |
| 99 | Boise State University Boise, ID | $10,364 | 63 |
| 99 | Clark University Worcester, MA | $69,595 | 84 |
| 99 | Clarkson University Potsdam, NY | $52,744 | 68 |
| 99 | College of Charleston Charleston, SC | $27,274 | 41 |
| 99 | Duquesne University (Palumbo-Donahue) Pittsburgh, PA | $51,603 | 14 |
| 99 | John Carroll University (Boler) University Heights, OH | $900 per credit | 93 |
| 99 | La Salle University Philadelphia, PA | $24,450 | 48 |
| 99 | Louisiana Tech University Ruston, LA | $6,592 | 33 |
| 99 | Mercer University--Atlanta (Stetson) Atlanta, GA | $818 per credit | 46 |
| 99 | North Carolina A&T State University Greensboro, NC | $4,744 | 135 |
| 99 | Northern Arizona University (Franke) Flagstaff, AZ | $9,796 | 39 |
| 99 | Oregon State University Corvallis, OR | $57,150 | 146 |
| 99 | Pace University (Lubin) New York, NY | $1,267 per credit | 187 |
| 99 | Quinnipiac University Hamden, CT | $1,035 per credit | 158 |
| 99 | San Diego State University (Fowler) San Diego, CA | $15,132 | 116 |
| 99 | St. John Fisher College Rochester, NY | $1,130 per credit | 53 |
| 99 | Texas Tech University (Rawls) Lubbock, TX | $13,144 | 105 |
| 99 | University at Albany--SUNY Albany, NY | $14,850 | 115 |
| 99 | University of Delaware (Lerner) Newark, DE | $825 per credit | 101 |
| 99 | University of Detroit Mercy Detroit, MI | $1,579 per credit | 31 |
| 99 | University of Mississippi University, MS | $810 per credit | 41 |
| 99 | University of New Hampshire (Paul) Durham, NH | $39,000 | 28 |
| 99 | University of San Diego San Diego, CA | $1,475 per credit | 80 |
| 99 | University of San Francisco San Francisco, CA | $1,475 per credit | 65 |
| 99 | University of Texas--San Antonio San Antonio, TX | $5,615 | 54 |
| 99 | University of Toledo Toledo, OH | $539 per credit | 425 |
| 99 | University of Vermont Burlington, VT | $32,028 | 41 |
| 99 | West Texas A&M University Canyon, TX | $10,037 | 150 |
| 99 | Willamette University (Atkinson) Salem, OR | $41,900 | 126 |
Source: U.S. News