University of Utah issued the following announcement on June 20.
Utah Soccer unveiled its 2018 schedule today. The team will play seven games against opponents that reached the NCAA Tournament last season, three at Ute Field.
"It is another action-packed schedule at Ute Field this season," head coach Rich Manning said. "We are going to have an exciting team to watch this season and we play a number of really solid opponents. We have nine games at home and that includes three top-20 teams from last year. You add strong non-conference opponents like Minnesota, Oklahoma and BYU to a rigorous Pac-12 slate and we cannot wait to play in front of our great fans again in 2018."
The Utes begin with an exhibition game on Sun., Aug. 12 vs. Idaho before opening the regular season at home on Fri, Aug. 17 vs. Minnesota on the Pac-12 Network.
The game with the Golden Gophers will be one of seven televised contests for Utah in 2018 and you will be able to catch four more matches via live stream at UtahUtes.com
"We are excited to be able to bring these four games to our fans and parents who are not able to make it to the game through our live streaming platform," Director of Broadcast and Video Services Skip Whitman said. "At no charge to the viewer, these streams will be multi-camera productions that include pregame, halftime and postgame interviews with the broadcast team as replays of the action. Our goal is to give the fans who are not able to make it to Ute Field a pleasurable viewing experience."
Utah hits the road for four straight games against in-state foes Weber State and Utah State, Big West regular season champion UC Irvine and Kansas, before closing non-conference play at home against BYU, Oklahoma and Nevada.
Pac-12 play begins with three in a row away from home with matches against Oregon, Arizona and Arizona State. The Utes are back home Thur., Oct. 4 for Washington before contests against No. 19 Washington State and Oregon State.
Utah travels to No. 1 Stanford and California before the final regular season games at Ute Field against No. 2 UCLA and No. 13 USC (Senior Day). The Utes close their slate with Colorado in Boulder.
The first weekend of the NCAA Tournament is Nov. 9-11 with host sites to be determined. Utah is a year removed from hosting a first-round game and defeating Texas Tech en route to its first appearance in the Third Round (Sweet 16).
Ute fans, do not forget to Show Your Scarf this season! To get your 2018 season ticket scarf for $5, visit http://utahtickets.com/soccer or call 801-581-UTIX.
Original source can be found here.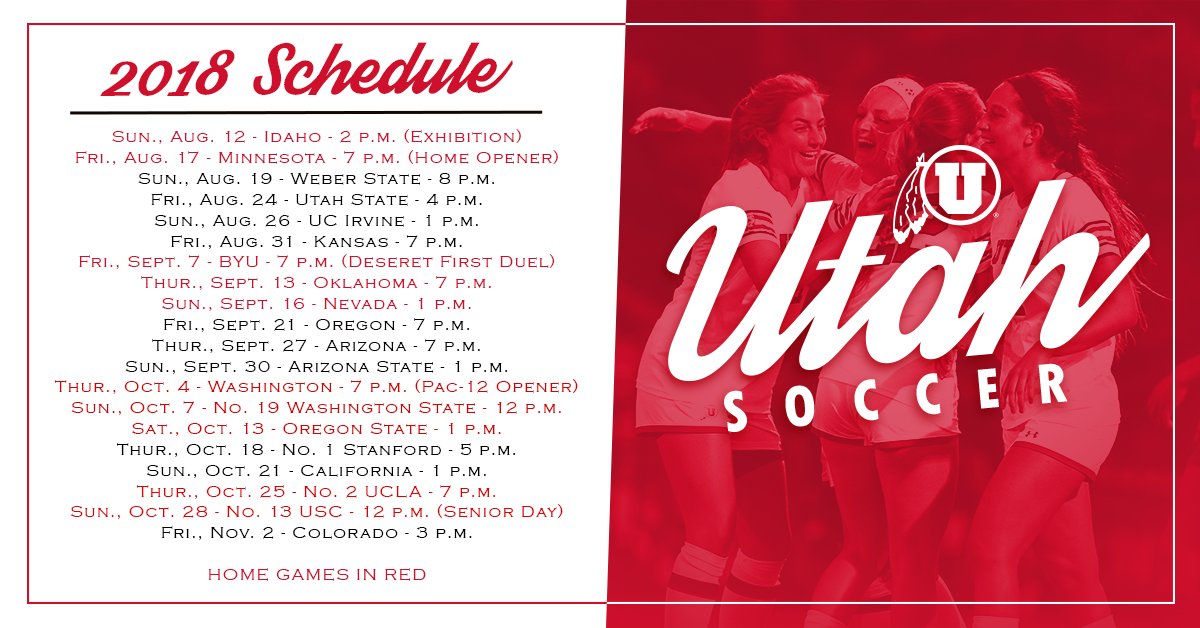 Source: University of Utah